In what was simply an amazing contest, the No. 5-ranked Tillamook High School Cheesemakers boys basketball team had an impressive comeback effort in winning an overtime thriller 69-63 over the Corbett Cardinals Tuesday at Corbett High School.
Considering that they scored just six points in the entire first quarter, it really seemed like a phenomenal performance by the Cheesemakers to overcome a five-point deficit with 52 seconds left in the fourth quarter. That's exactly what Tillamook did to pull out the victory.
Tillamook senior post Ethan Miller (14 points) scored on a driving reverse layup with six seconds remaining in the game, tying it 58-58 to send the game into overtime. Tillamook, guided by coach Johnny Begin, outscored Corbett 11-5 in the four-minute overtime period to take control and pull out a very exciting road victory.
"We had nine guys playing and all of them made big contributions to help us get the win," said Begin. "The all played good defense, they were getting rebounds, and everyone did what the coaching staff asked them to do. It was a great team win on the road and sometimes you never know what's going to happen."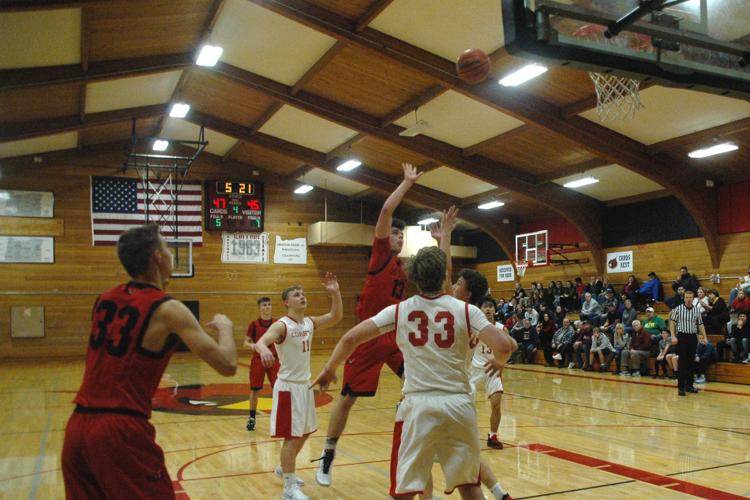 Tillamook (2-0) took the initial first quarter advantage, going up 4-0 on two free throws by sophomore post Marshall Allen (17 pts.) and a short jumper by Miller. Corbett (0-1) then scored five straight points to go up 5-4. It marked the first of a total of 14 lead changes. The scored was then knotted 6-6 at the conclusion of the quarter, which was the first of 13 total tie scores in the matchup.
"It feels great to get the win and it was awesome to see how we pulled together to play hard and come up with the victory," said Miller. "I didn't really know how much time was left at the end of regulation, but I was just focusing on getting the ball in the basket and taking care of what needed to be done. I'm really excited about helping our team get a great win like this."
Corbett then jumped in front midway through the second quarter and built a 14-10 lead. Tillamook then went on a 9-0 run, including a three-point field goal by junior guard Matt Bever (six pts.). Miller capped the rally with a free throw, putting Tillamook up 19-14 with 1:25 left in the quarter. The two evenly matched teams then traded points and Tillamook remained ahead 24-20 at halftime.
Corbett then came out with a strong offensive spurt in the third quarter, outscoring Tillamook 13-6 to go ahead 33-30. An Allen layup and a jumper in the lane by Miller lifted Tillamook back in front 34-33 with 2:15 left in the quarter. Corbett then had another impressive rally in a 10-5 run to build a 43-39 lead after three.
The seesaw battle continued and when senior guard Kellen Shelley (12 pts.) fired in a three-pointer from the side, Tillamook went up 44-43 with 7:16 left in the fourth quarter. There were then six consecutive deadlocked scores, including a 53-53 tie when Miller sank a jumper in the lane.
"We came out and played really strong at the beginning, but then they (Cardinals) came out and played pretty tough in the second half," said Shelley. "Ethan Miller made a big basket to get us into overtime. When we did that, then we started playing better, we were hitting shots and we were able to pull out a win. We're all hoping to beat lots of other good teams throughout the season. It's tough to get a win on the road and you're lucky to get a win at any 4A school on the road, so we're just very happy to start the season with a 2-0 record."
The tough Cardinals then appeared to take control and seemingly put themselves into position for a victory with a 5-0 run to take their largest lead with 52.7 seconds left in the game. The Cheesemakers quickly responded and senior guard Tyson Wilkes (nine pts.) sank a three pointer to make it 58-56 with 38.5 seconds on the clock.
Tillamook then gained an offensive possession following a Corbett turnover and the Cheesemakers called a timeout with 11.7 seconds remaining. Following Tillamook's inbound play, Miller drove towards the basket and then went underneath it for the reverse layup, knotting the score 58-58. Corbett was unable to score on its final possession of regulation time as the game went into the extra four-minute period.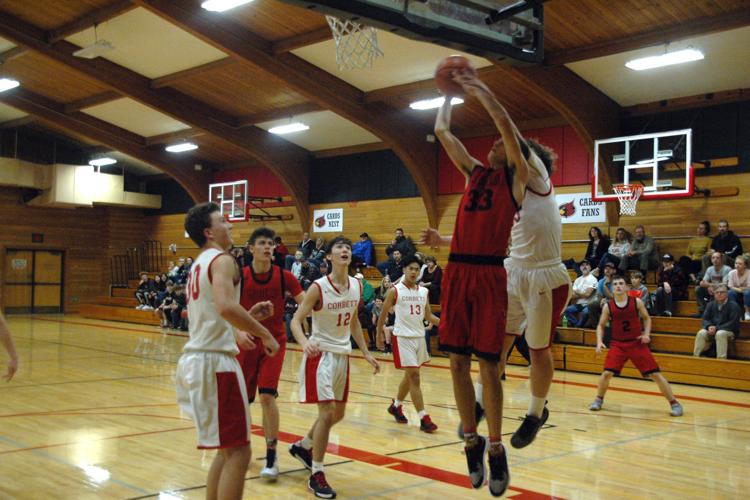 "We fought through some adversity and battled back to tie it up at the end and go into overtime," said Begin. "As soon as we got into overtime, I felt like it was our game. We hit a couple of threes when [the Cardinals] sagged off us and were leaving us with open long-range shots. That's going to be a key to our offense if we can hit the outside shots. We have some guys like Miller and Allen who can really score well inside and so we have to be able to hit the outside jumpers. We started the season with two road games and now we're ready to come home and play our first game there."
Tillamook took control for the first offensive possession of the overtime and freshman guard Trask Veek-Petersen (five pts.) fired in a three-pointer from the corner, putting the Cheesemakers up 61-58 with 3:39 left. After Corbett trimmed it to 61-60, Wilkes sank a three-pointer from the corner, lifting Tillamook in front 64-60 with 2:37 left. Shelley later sank one free throw with 1:03 remaining, making it 65-60.
"It sure felt good to finally get the lead back and get out in front and provide us with a little bit of a cushion," said Wilkes. "We had to play tough defense at the other to and stop them (Cardinals) from scoring, so that was a key to the victory as well as making some clutch shots too. I felt like we were in control of the game the entire way, even after we fell behind. We were never too worried, because I knew that we could fight through and do whatever we needed to do to get the win."
Corbett answered with a three-pointer, making it 65-63 with 53.2 seconds left. Wilkes and Miller each sank clutch free throw after they were fouled to help extend the margin to 69-63 with 12.3 seconds left in the game.
Although it was only Tillamook's second game of the season, it really seemed to have the intensity level of a playoff contest. At the conclusion of the game, the Cheesemaker players enjoyed an emotional and rather impressive celebration by jumping up and down, cheering loudly, hugging one another and giving each other high fives.
Beating Corbett followed a redemption against the Taft Tigers.
After downing Tillamook last year, the Taft 7-12 boys knew the visiting Cheesemakers would be out for revenge when the two teams met. The result? A physical, competitive basketball game.
The Tigers matched shots with Tillamook in the first quarter, which ended in a 12-10 Cheesemaker advantage. Tillamook expanded their lead to 28-22 at halftime despite a strong effort from senior Jordan Hall and Trenton Fisher on the offensive end.
The Tigers ratcheted down the defense in the third quarter, allowing just six Tillamook points while narrowing the gap to 34-31 going into the final period.
Both teams shot poorly from the charity stripe: Taft going 12-21 (57 percent) and Tillamook finishing 14-22 (63 percent). The two extra free throws for the Mooks and a single basket proved to be the difference maker as they would go on to beat Taft 50-46.
Tillamook will try to extend its winning streak to three games when it meets the sixth-ranked North Marion Huskies (2-1) in its home opener at 7 p.m. Saturday. The Cheesemakers follow with a second consecutive home game Tuesday at 7 p.m. against the Sweet Home Huskies.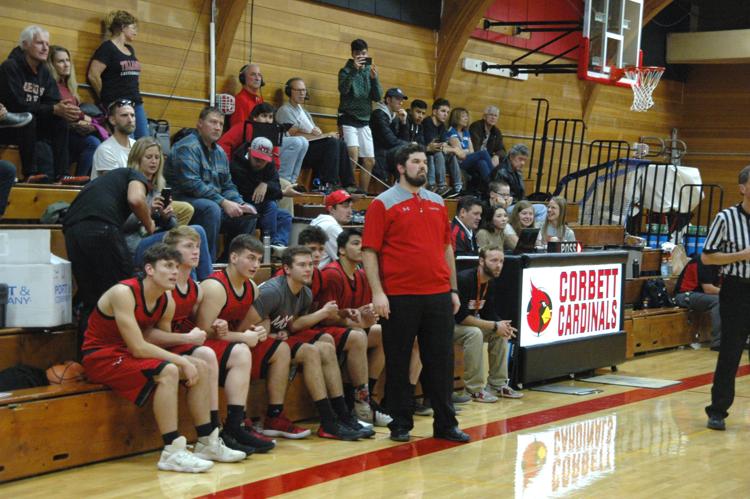 Tillamook 6 18 15 19 11 - 69
Corbett 6 14 23 15 5 - 63
Tillamook (69) - Marshall Allen 17, Ethan Miller 14, Kellen Shelley 12, Tyson Wilkes 9, Matt Bever 6, Trask Veek-Petersen 5, Keeding Lewis 4, Kris Ledesma 2, Kaleb Boomer 1.
Corbett (63) - Joe Fundak 26, Nolan Han 9, Mason Wright 8, Eligh Aron 7, Luke Finn 7, Jake Newton 4.