Young student athletes from Premier Athletic Club traveled to Boise, Idaho recently to play tackle football in the Oregon All State Games. The all state games assembles the finest players from the state of Oregon to play football and help bring awareness to children in foster care.
Athletic Director/ Co-founder Joshua Luciani said players arrived in Boise on Aug. 5. They spent the next few days at practice twice a day. They did temperature checks as well as hand sanitizer before entering the buses.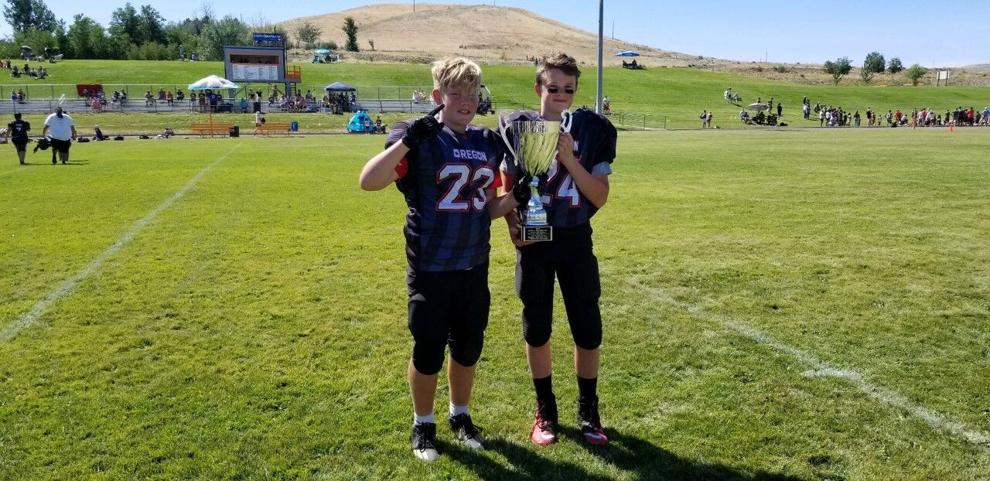 Players and coaches rode charter buses out to Glenns Ferry High School to play and coach on Aug. 8, Luchiani said. Spectators were allowed in the stands and were able to cheer for the teams.
"It shows what can be done to make sports happen for kids with a little preparation and creativity," Luchiani said. "The kids usually stay at Oregon State and practice in June, then travel to a high school to play, but with the current situation, Laif Morrison – the man who puts everything together – got creative and found a way to make it happen."
The teams were split into Team Metro, consisting of players from Portland, and Team Oregon, with players from the rest of the state. Luchiani said this was the only tackle football game of the 2020 season.
Luchiani said Premier Athletic Club had three athletes participate in the games. Noah Schwend and Kash Richardson represented the club on the seventh grade Team Oregon. They are heading into the eighth grade this fall.
Eligio Maciel ended up playing for Team Metro at the eighth grade level and will be a freshman at Tillamook High School this fall, Luchiani added. Also representing Premier Athletic Club were Griffyn Boomer and Seth Glaster, both on the sixth grade level. Neither player was able to play due to injury and prior commitments after the date of the games was changed to August. The two players had made the trip to Ohio in December for the NFL Hall of Fame Tournament.
Four coaches from Premier Athletic Club joined the athletes in Boise and coached the eighth grade Team Oregon squad. Coach Tony Lovely was the line coach, Coach Steve Schwend was the special teams coordinator, Coach Nick Renault was the defensive coordinator and Coach Josh Luciani was the head coach and offensive coordinator.
Luchiani said Team Oregon won the seventh grade games in a thrilling shoot out that went into overtime. Oregon pulled out a 32-34 victory. Team Metro, which featured Maciel, won the eighth grade games by a score of 52-14.
"Although our coaches did not get the win, I am extremely proud that all of our elite student athletes representing Premier Athletic Club (PAC) returned home champions, plus I had the privilege of seeing the looks of our PAC coaches as their sons secured a victory in OT," Luchiani said.
The games are always free to attend but gift cards are accepted and donated to Oregon DHS, Luchiani added. This year, they raised over $6,000 in donations.
In addition to the games, players had nightly entertainment consisting of a magic show and a concert with a talent show.
"An event that brings together the best athletes in Oregon for an amazing cause is so awesome for multiple reasons," Luchiani said. "For one, players had the opportunity to play the game they love, as well as see how they stack up against other players that are just as good or better than them. These guys are used to being the best player on their team, or sometimes the field, so something like this forces them to play at the top of their game."
Luchiani said another thing the games do for players is boost confidence. He noticed this will one of the Premier Athletic Club athletes. The player thought he was an average player. After two days of practice, his confidence grew and he was able to dominate on defense. He now knows what it takes to be elite and has set some new goals for himself.
"The bond that is formed with over 30 student athletes in just three days is amazing," Luchiani said. "It's a bummer having to say bye to all of them. The other hard part was walking off the field not knowing when we will have an opportunity to be back out there."
Premier Athletic Club would like to thank Omar Viramontes of Rodeo Steakhouse and Grill for his support.
Premier Athletic Club is hosting a beach clean up from 10 a.m. to noon Saturday, Aug. 22, at Happy Camp. This event is open to anyone. Register on the club's Facebook page.
Follow Premier Athletic Club for updates on what they have planned for student athletes on the coast, including camps and workouts for baseball, basketball, softball, volleyball, golf and more. Follow Premier Athletic Club on Facebook, Instagram @Premier_Athletic_Club or on Twitter @PAC_Oregon.