Many Coast Guard personnel voluntarily sign up to serve our country either for a few years or for an entire career. But once they start receiving a paycheck, they are not technically volunteers anymore. They are paid employees of the government. However, going back to why they joined a military branch in the first place many of these people have a built in desire to serve as a volunteer. Men and women who are attached to the Coast Guard can often be found volunteering time and talents to a cause that is personally special to them, the community they live in or to something they have a talent for.
Chief Warrant Officer Clifford Mooneyham, engineering officer, Coast Guard Cutter Fir, homeported in Astoria, Oregon, is one of numerous community volunteers that currently call the greater Astoria area home. Mooneyham is a volunteer that spends much of his volunteer hours out of sight from public view. He has spent a lot of hours underwater during other people's worst moments trying to provide them some form of closure.
As a qualified master diver, Mooneyham has spent more than 150 hours as a dive team member of the Clatsop County Underwater Recovery Team that is under the oversight of the Clatsop County Sheriff. He has been a member of the team for 2 ½ years. His duty aboard first the Coast Guard Cutter Steadfast, also homeported in Astoria and now the Fir, doesn't allow him to respond to every URT call, but he averages three URT related response dives a year.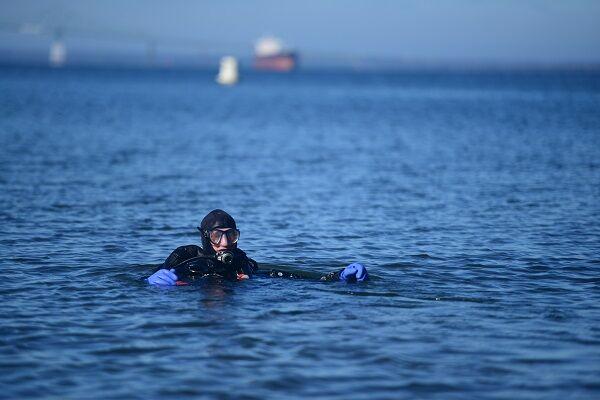 "Our work provides the opportunity for closure to the families who have recently lost a loved one," said Mooneyham. "Volunteering on the Clatsop County URT brings great satisfaction to me because I get to use a skill to help others."
Mooneyham recently was part of the dive team that extracted two victims of a plane crash near the Columbia River anchorage area in Astoria. He also was a member of the team that recovered a father who drowned saving his son during a canoe accident in a nearby lake.
Dives with Clatsop County requires a four-person team consisting of a master diver, standby diver/witness, communications and line tender. If a diver locates a drowning victim, the standby enters the water as a witness and brings down a recovery bag. Recovery is always done underwater to spare onlookers that may be on shore.
Thankfully these tragic occurrences don't happen too often, but the URT is called on an average of six times a year to help find a missing person.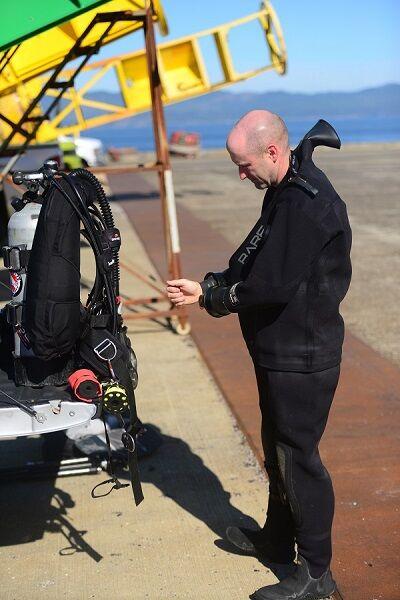 The dive team also drills at least once a month in search and recovery and evidence recovery. During search and recovery drills, a weighted mannequin is hidden in a body of water while the dive team is inside a boathouse preparing to dive. During evidence recovery a fake gun is thrown into the water and the dive team uses techniques to locate and properly secure that evidence.
The Coast Guard's goal whether aboard a small boat, cutter or helicopter is to always to save lives, but when the Columbia River and other bodies of water don't cooperate with search efforts the Clatsop County Sheriff's officers are usually already on scene and they transition to a recovery phase. Mooneyham and his fellow URT members can at the very least provide closure during tragic events that are inevitable on the mighty Columbia.
The URT has also used their expertise to help keep or return Coast Guard cutters to full-mission capabilities by clearing crab pot lines from all three cutters homeported in Astoria.
"Prior to doing anything in the Coast Guard we discuss mission execution, navigation plans, search patterns, intelligence and even drills to make sure the entire team is on the same page," said Mooneyham. "We do the same thing as a dive team. We use the intelligence we have available from eyewitness or reports to set markers and create search patterns. We then use headset communication and hand signals to communicate underwater or to the team members above the surface."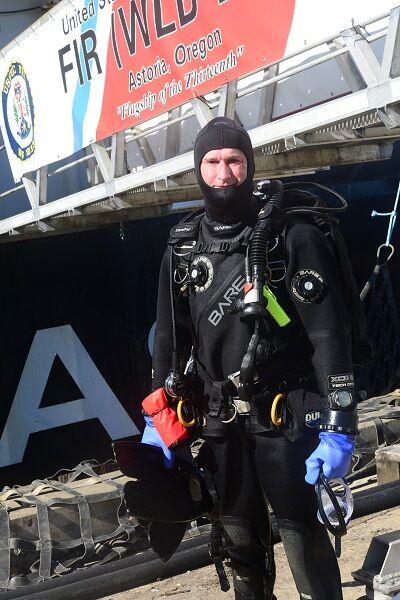 Diving is difficult in the Columbia River, where divers have to continuously fight the elements and the natural flow of a river that on average discharges more than 120,000 cubic feet of water per second. Dives need to be timed according to raising or lowering of the tide, which partly controls the power of the river's current. In the river, divers swim closer to the floor, where the current isn't as strong, but they still must use more fin kicks to stay in place than on most dives. The fin kicks exert more energy so air supply sometimes doesn't last as long – meaning dive times are shorter. The visibility is also limited where you can see no more than two feet in front of you.
Mooneyham has been diving recreationally for about six years and has been a certified master diver for two years. He was provided the opportunity to learn how to dive through the old Coast Guard tuition assistance program, which paid for the scuba course while aboard the Coast Guard Cutter Maple homeported in Sitka, Alaska.
"I got involved because I love being on or in the water – hence my career choice," said Mooneyham. "It was a great opportunity to join my fellow crewmembers for fun and morale. I learned how to dive for a total of $36 out of pocket."
He has since had the opportunity to recreationally dive in various locales in Alaska including Attu and Kodiak after becoming certified in Sitka. He has also dived in Hawaii, Mexico, and up and down the Washington and Oregon coastline.
"My favorite place to dive was near Kodiak because of the topography, visibility, color and various creatures and sea life, not to mention being able to dive without having to charter a boat because you can be in deep water within minutes of entering the water," said Mooneyham.
When he arrived in Astoria in 2013 to join the crew of the Steadfast, Mooneyham located Astoria Scuba, a local dive shop at Pier 39. During one of the visits to the shop he learned of the volunteer opportunity with the Clatsop County Sheriff's Office. After about a month-long qualification process, which included meeting fitness standards, medical physical exam, character references and background check he became part of the URT.
Originally from South Carolina, Mooneyham will be spending at least three more years in Astoria as a Cutter Fir crewmember. He actually hopes to extend that commitment to finish out his 30-year career in Astoria. He plans to continue volunteering with URT as long as they will have him.