The roof of a building at Fourth Street and Del Monte Avenue collapsed Tuesday, Feb. 18, leaving significant damage. The remaining structure was demolished.
Tillamook Fire District Chief Daron Bement said the building was owned by TP Freight Lines Inc., named for its early history carrying freight between Tillamook and Portland, and managed locally. It was used as a storage area and was unoccupied at the time of the collapse. No injuries were reported from the scene.
Denise Dunn, assistant secretary of the corporation for TP Freight, said the building was somewhat compromised already. It was old with sinking ground on one side, leading to limited access and use of the facility because of safety concerns. Dunn said plans were already in place to tear it down as soon as possible.
"We didn't realize it was quite as bad as it was and that it would happen this fast," Dunn said.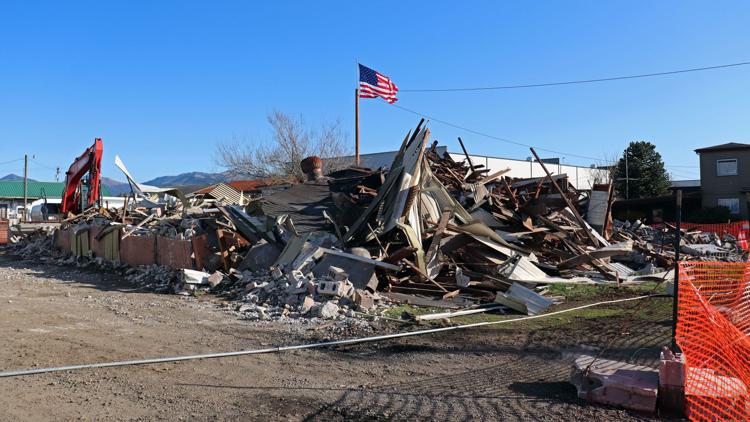 Dunn said to her knowledge, there was nothing worth salvaging in the building at the time of the collapse because of the expected demolition. She said mostly what was inside was old truck parts and possibly some old machinery.
Years ago, the building served as a mechanic shop for TP Freight. When the mechanic retired, the building was repurposed as a storage facility. It was not immediately clear what the value of the building was. There are no plans for TP Freight to find another such building in Tillamook.
"I appreciated the prompt help from the fire department and the police department," Dunn said. "They really handled it well and helped us out tremendously … when something like that happens it really shocks you and takes you by surprise, and you're not too sure what to do."
Bement said Tillamook Fire, Tillamook Police, Tillamook People's Utility District worked together to mitigate hazards and ensure public safety. Officials at the scene and the building owners collaborated to obtain an emergency demolition permit from the City of Tillamook. Excavators from two companies, Averill and Leonnig, teamed up to demolish the building.
Bement said demolition was necessary because the remaining structure was deemed extremely hazardous to the public. The area around the collapsed building was closed off for public safety for around two hours.