The Schooner Restaurant & Lounge delivered a check to The Oregon Food Bank – Tillamook County Services on Monday, Jan. 6, from the funds raised from the restaurant's Thanksgiving fundraiser dinner. The Schooner raised over $25,000.
This was the 10th annual Thanksgiving Dinner, held Nov. 28, and partnered with The Upstairs Bar and Grill. 100 percent of the proceeds from the Silent Auction Bake Sale and the Thanksgiving Day Benefit are donated to the food bank.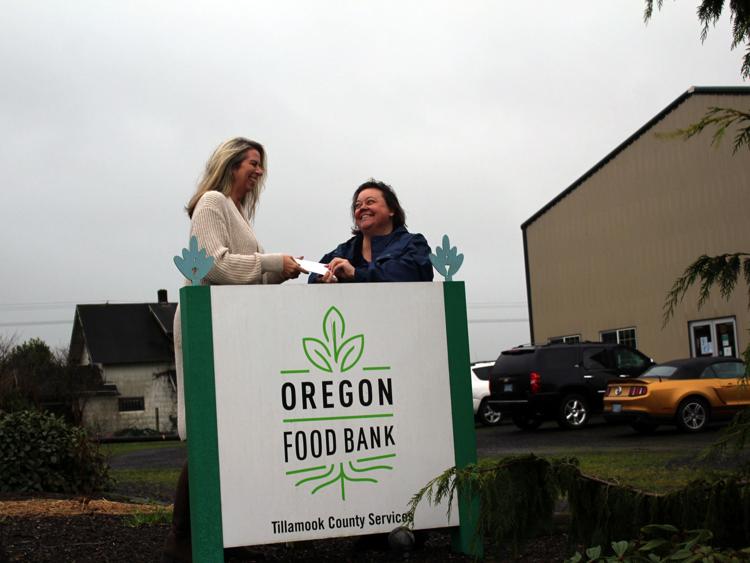 "Oregon Food Bank Tillamook County Services greatly appreciates the hard work and commitment that The Schooner Lounge, The Upstairs Bar and Grill, and the many volunteers and supporters put into this event all year long," said Mis Carlson-Swanson, Oregon Food Bank Branch Services Manager. "Over $25,000 was raised, which provides over 90,000 pounds of food, which provides over 75,000 meals for people experiencing food insecurity in Tillamook County."
The Schooner said they did not waste any food at their benefit dinner this year. The Schooner's General Manager Lexie Fields estimates about 525 people were served between The Schooner and the Upstairs, including deliveries to those who could not make it out to the restaurant.
"We were thrilled to have exceeded the $25,000 mark this year," Fields said. "This is about $1,000 more than we did last year."
Each year, the Schooner's goal is to raise more than the previous year.
"We were absolutely blessed this year to have received a generous donation from our local Safeway – all of the turkeys were donated by them and we are incredibly grateful for their support," Fields said.
30 turkeys were donated by Safeway for their benefit dinner. This was the first time turkeys had ever been donated for the event.