Les Schwab Tire Center in Tillamook collected toys at their store for their annual Holiday Drive. They delivered toys on Wednesday, Dec. 18, to Adventist Health Tillamook Regional Medical Center, Tillamook Lion's Club, Tillamook Elk's Lodge, Tillamook Seventh-day Adventist Church and a catholic church.
This is the second year Les Schwab has done the drive with the hospital but has held a Holiday Drive for many years.
"The hospital is kind of a unique one," said Les Schwab Manager Dane Lawrence.
Les Schwab also took cash donations at the store. Whatever donations they receive throughout the season, they match it, go to Fred Meyer and purchase stuffed animals, teddy bears and blankets.
They put the items in ambulances or have them for newborns. Many of these items go to children and newborns at the hospital.
Lawrence said the turnout of donations this year was really good. Les Schwab collected about 15 bags of toys and collected $841 and went above the match.
"We thought this would be a way to help the families, not necessarily just the patient or the kid," Lawrence said.
The Young Pros of Tillamook also did their own toy drive and dropped off four bags and a cash donation to Les Schwab.
"They were a big part of this as well," Lawrence said of the Young Pros.
Les Schwab delivered the donations toys to Adventist Health at 9 a.m. Wednesday, Dec. 18. They also fully funded Adventist Health's Reach Out and Read Program for 2020, as well as for the remainder of 2019. Lawrence said the hospital is one that gets overlooked during the holidays.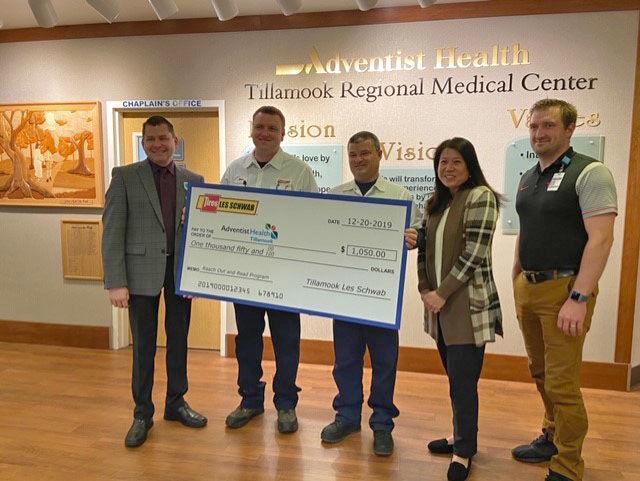 "It's important to give back to a community that supports us throughout the year," Lawrence said.
They delivered the check for the Reach Out and Read Program to the hospital on Friday, Dec. 20, for $1,050.
"It's pretty amazing what this town does for kids," Lawrence said. "We usually give to the Catholic church, but they were already full."
Lawrence said the church already had all the toys they needed before they could get to them, so they were able to disperse them out.
"It's really amazing how this community kind of pulls together, especially around the holidays, and it's pretty cool to be a part of it," Lawrence said.