After a contentious 160 days, the 2019 legislative session is closed. The final actions came Sunday night after Senate Republicans returned from a walkout on Saturday, June 29.
Senate Democrats agreed to push off their greenhouse gas regulating bill if Republicans returned to work on the session's remaining legislation. The walkout had denied the Democrats the 20-member quorum necessary to conduct business. The Senate voted Saturday to send House Bill 202 back to committee, which will likely kill the bill.
The week-long walkout was triggered by House Bill 2020, also known as the cap and trade bill, which would have limited most of the state's greenhouse gas emissions. Those who exceeded carbon limits would be required to buy carbon credits, the revenue from which would have been reinvested in so-called clean industries.
Senate President Peter Courtney (D-Salem) announced Tuesday, June 25, that his caucus did not have the votes needed to pass House Bill 2020. The bill passed the Oregon House on June 17 and was scheduled to receive a vote in the Senate on June 20.
"Senate Republicans have blocked a bill that provides a better future for our state and for our children, and the tactics they employed to do so are not just unacceptable, but dangerous," Democratic Gov. Kate Brown said. "The Republicans are driving us away from the values that Oregonians hold dear and are moving us dangerously close to the self-serving stalemate in Washington D.C."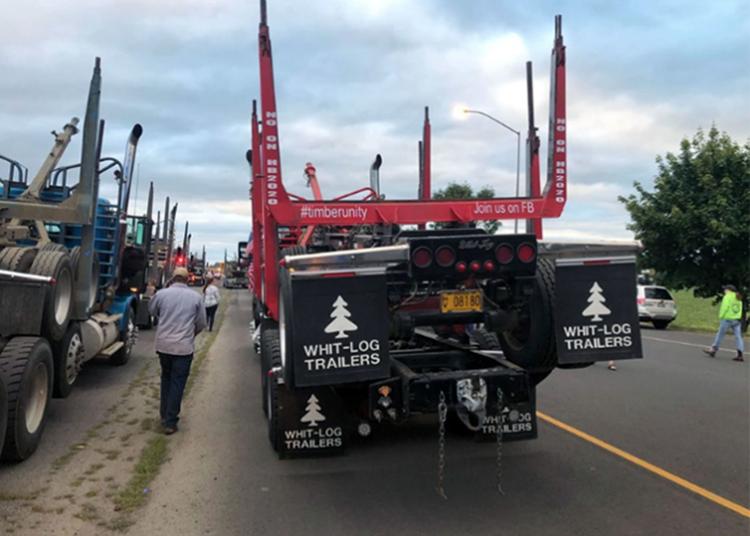 said it would dramatically affect the state's rural communities and hurt timber companies, ranchers and farmers. They also said it would impact transportation companies and drive up fuel costs with added taxes. Rallies were held at the state Capitol with hundreds of truckers and loggers gathering outside the Salem building.
Bill supporters and environmental groups said the bill was needed to improve Oregon's air quality and to help save the planet. They also said it could add as many as 50,000 clean-energy jobs to the economy. A rally for some environmental groups was held at the Capitol back on May 29 to support House Bill 2020.
Senate Republican Leader Herman Baertschiger Jr. (R-Grants Pass) said the walkout's goal was to give Oregonians a vote on the bill, adding that Brown "is only representing Portland and the environmental community, not rural Oregonians."
"Protesting cap and trade by walking out represents our constituency and exactly how we should be doing our job," Baertschiger said. "We have endured threats of arrest, fines and pulling community project funds from the governor, senate president and majority leader."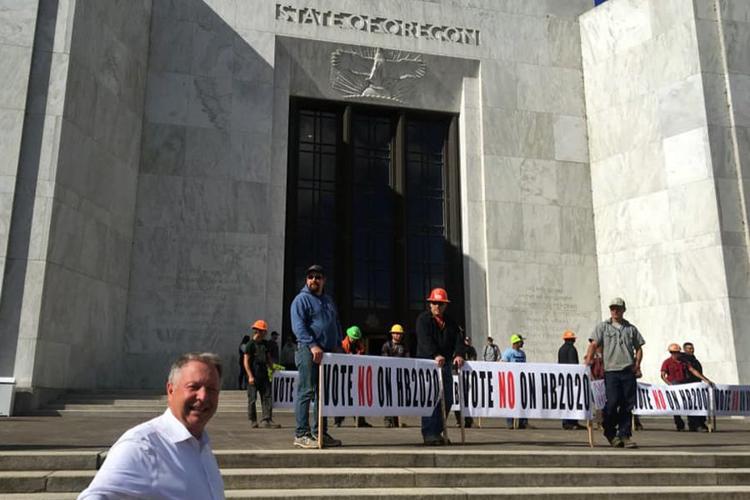 Senate Democrats called on Oregon State Police to round up Senate Republicans to finish the legislative session, which was approved by the governor. There was no reported detainment of any Republican legislators.
"After many hours of well-intentioned, respectful negotiations on Wednesday, the Senate has come to an impasse," Brown said. "The Senate Republicans have decided to abandon their duty to serve their constituents and walk out. It is absolutely unacceptable that the Senate Republicans would turn their back on their constituents who they are honor-bound to represent here in this building."
Democratic State Rep. David Gomberg (D-Otis) said his office worked on House Bill 2020 since it was first introduced, aiming to mitigate the effect on coastal businesses in fields such as dairy, farming and fishing as well as the big mills often found near small towns.
"The bill as written said that money would particularly go to rural communities," Gomberg said. "We changed the bill to say rural and coastal … we then suggested different types of coastal investments. It's not just new energy like wave and wind and solar, it's also things that are impacted by climate change like tide gates and dikes and levees, or our coastal road infrastructure, which is affected by landslides and other climate-generated changes."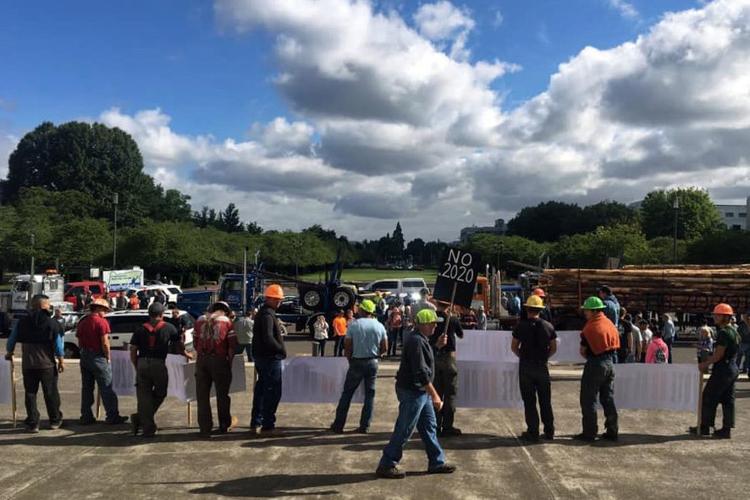 Speaking on the decision to deploy Oregon State Police troopers to force Senate Republicans' return to the Capitol, Gomberg said he had seen other states go down that road, and that Oregon has been better than that. He's concerned that Oregon will slip into the sort of divisiveness and short-term political maneuvering that he said has been avoided in the state.
"We've been able to overcome our differences; you win some, you re-file others, but you don't shut down the system," he said. "Oregon has been better than some of the other states where these confrontations boil over, and I don't want to see us get to that place."
It was the second time this year republican legislators walked off the job in protest, reversing a pledge to not walk out during the remainder of the session. The previous walkout in May was a response to a business tax for public schools that was eventually signed into law.
St. Helens Chronicle and Lincoln City News Guard contributed to this article