The volunteer fire chief job in Bay City has become part-time paid position. A discussion about the volunteer fire chief position had been ongoing for some time, leading to some heated verbal skirmishes among public officials.
A proposal for a paid fire chief position in Bay City came this year as departments across the nation have been making hard budget choices, often looking to form regional fire districts to combat understaffing and underfunding concerns while serving vast areas.
Bay City Fire Chief Darrell Griffith retired from the Los Angeles County Sheriff's Department in 1994 and moved to Oregon. One day, a neighbor pulled up in a brand new, shiny fire truck and asked Griffith if he wanted a ride, later going out on a medical call. It wasn't long before he volunteered for the department.
Working as loss prevention manager at Tillamook Fred Meyer for about a decade, Griffith continued to volunteer. In 2001, he became the assistant fire chief and training officer. He fell in love with training again, assisting then-Chief Don Reynolds in getting the department's accreditation, and began slowly upgrading the department to a more modern standard.
The effort reportedly paid off with increased capabilities and a tripling in volunteer staff. Within three years of becoming fire chief in 2011, Griffith took the department's insurance rating from a 5 to a 3. The ratings for fire departments and their surrounding communities calculate how prepared departments are to put out fires. The lower the score, the more effective the department.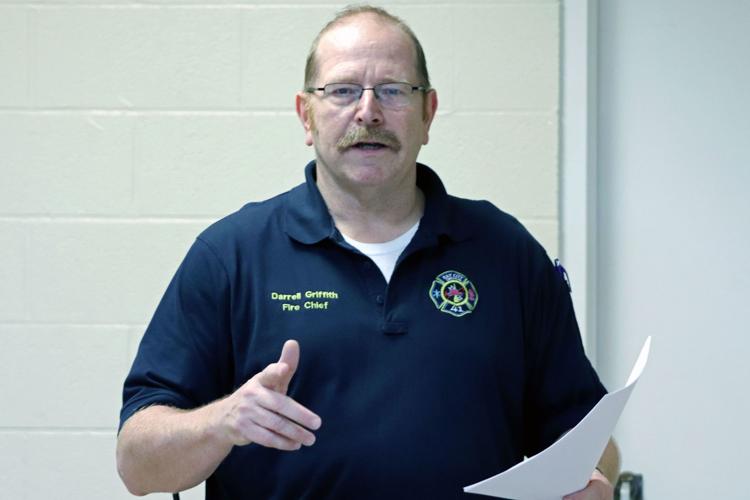 Griffith is more than the fire chief. He serves as the training officer, fire station administrator, human resources director, volunteer recruiter, logistics and supply clerk, budget director and even the custodian. It's typical for him to work more than 160 hours a month as a volunteer fire chief. He currently receives a $1,200 monthly stipend for his service.
As unfunded mandates, certifications and equipment have driven up operating costs, program maintenance eats up more and more hours of paid staff. Furthermore, fire departments have expanded their areas of responsibility, becoming the catch-all responders for every type of incident that results in a 911 emergency call. A recently activated second-alarm policy for structure fires with smoke and flame is also adding to local fire crew activity.
Cracks in the regional fire service foundation began to show in the light of a 2016 Garibaldi Fire Department steering committee report. Griffith was a member of the steering committee, which included representatives from numerous public agencies around the county. He said the process was eye-opening in revealing the administrative workload necessary to operate an effective, regulation-compliant fire district.
"I entered that steering committee thinking 'what do I need your help for,' and I left it realizing 'oh my God, I do need help,'" Griffith said. "We all need to get in this together, and we need to find a way to share these administrative costs."
Retired with a pension, Griffith said the compensation was never a big issue for him. However, without the pension he couldn't afford to serve as fire chief – a factor that is worth considering as the City moves towards offering a paid position. Griffith said the low-end salary for a full-time paid fire chief is around $80,000 a year.
As a part-time chief, Griffith would certainly reduce his service hours. Prior to the budget approval, he said he planned to rely more on the department's officers. An operations officer position is under consideration with a $400 monthly stipend, and the assistant fire chief stipend would increase from a $100 to a $500 monthly stipend under the new plan. The latter position would include significant added areas of responsibility.
Griffith's $1,200 monthly stipend was replaced by a $3,300 salary for around 87 hours a month of administrative time. He is eligible for the same benefits as a half-time city employee. Noting the pace at which he works, Griffith said in one recent month he recorded more than 135 hours of administrative work and had a "fortunate" six days off, a pace he was struggling to maintain.
"I'm probably still going to be the most active volunteer on the department because I enjoy going to calls," Griffith said. "And it's incredibly fun and rewarding to train the volunteers, to watch them succeed and learn … we have a good time."
There is tremendous pressure on the fire chief in terms of leadership responsibility. He said there was no possibility of looking internally for a replacement if he should step down. Griffith hopes to retire from the fire service when the fire district tax levy comes up for renewal, but as it stands, he fears the department would melt away without a qualified, enthusiastic leader.
An untrained and poorly led fire department stands as a liability to its community, Griffith said, emphasizing the dangerous reality of the work. If a firefighter loses their life on a call, the scrutiny of regulatory agencies cuts into a department like a laser beam. And if they find the department is out of policy in some way or lacking in some requirement, the impact could be detrimental.
"For that reason, we need to make sure we're meeting requirements," Griffith said. In the wake of the 2016 steering committee, regulatory compliance became a top agenda item for the fire chief, who said Bay City is around 85-percent of where it should be. He would like to see it at 100 percent before he goes.
A part-time paid fire chief position is not the solution for everything. Griffith warned that this would be a stopgap measure unless Bay City finds another individual willing to dedicate their life to a part-time job, which he sees at unlikely as best. He said long before the tax levy is up, the fire department needs to have a funding solution to stabilize itself, including the possibility of forming a regional fire district.
In April of this year, Bay City officials evaluated the possibility of using fire levy funds, currently a property value tax of .90/1000, to support a fire chief position. It discussed in city council meetings, but a legal opinion authored by then-City Attorney Lois Albright quashed the idea.
Albright said while levy funds could be used to fund the part-time administrative assistant position mentioned in the levy language, the funds could not be used outside of what voters had approved. The levy included a budget of $18,065 for the fire chief in 2018-2019, and $37,806 for the administrative assistant position.
In her written legal opinion, Albright stated that public officials could be found personally liable for authorizing expenditures not allowed otherwise (such as levy proceeds being utilized for a purpose other than approved). The current budget for Bay City Fire Department is based on $96,000 from the City's general fund (around 53 percent of the general fund budget) and $101,953 from the 2017 tax levy.
Albright also stated that the fire chief is a "round-the-clock" position that is compensated for the "mundane work and recordkeeping part of the job." She said the concept of "only having a fire chief for 20 hours per week when he is paid is never one that the Council had in the past." The former city attorney called for further clarification of roles and responsibilities in the firehouse before the City proceeds.
Community buzz around the firehouse reached peaked during a June 27 special meeting. During the meeting, Bay City Mayor Chris Kruebbe announced his resignation from the fire department after he was set for suspension pending an investigation. Griffith declined to share details about the matter at the meeting, citing human resources confidentiality concerns.
Council President Kathy Baker said she and Councilor Crystal Killion had recently researched concerns related to background checks and certifications for Bay City firefighters. They determined the fire chief was meeting expectations and following established guidelines. Griffith said the department had investigated complaints about specific individuals and found them untrue.