In my last column, I shared some ideas for houseplants that will make the indoors a little more cheerful this winter. But one houseplant I wanted to feature this week is more of a category than a single plant. I am talking about the wonderful world of succulents.
The word "succulent" describes a wide range of plants from cacti and aloe vera to the popular hen-and-chicks. The term comes from the Latin word 'sucus' which means juice or sap. A general definition is a plant that has fleshy, thickened leaves that retain water in dry conditions.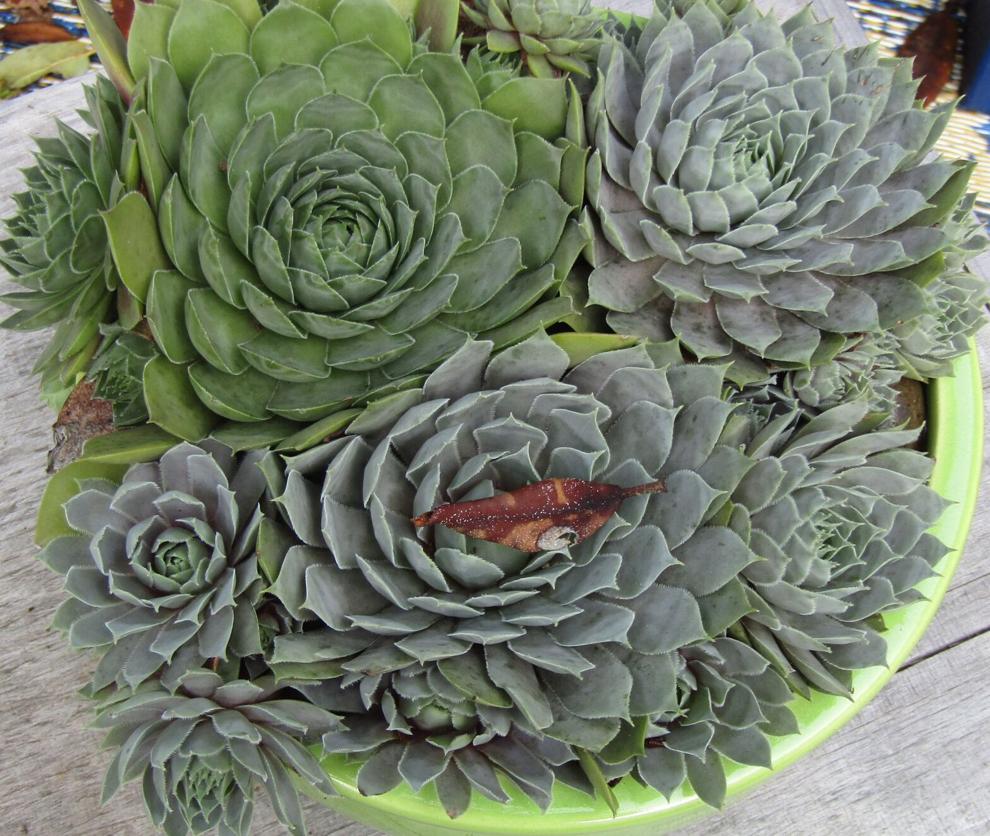 Of course, succulents are great outdoor plants in an Arizona-type dry climate as they need a limited amount of water and the sandy soil drains well. In Tillamook County, this is not the issue for succulents. We can certainly grow succulents outside in the summer. But in winter, we must assure our succulents don't drown in our rains. So winter is a perfect time to bring some of those succulents inside to enjoy.
As a rule, succulents prefer lots of sun, but they do burn easily so indirect or curtain-filtered sun is best. They like at least four hours of bright light each day. North or east windows will work if you can't filter the direct sunlight.
Some succulents prefer to only be inside in our cool, wet Pacific Northwest climate. These include most cacti like barrel, prickly pear or donkey's tail, and Christmas and Easter cacti. Others, like the popular sedum (stonecrop, for example) and sempervivum (aka hen-and-chicks) are fine indoors or out as long as they are not soaked with rain. If you are growing sedum outdoors – and most of us do – well drained, sandy soil is a must. These are the hardier succulents and will survive outside in colder temps, not usually an issue in Tillamook.
Soil is crucial to succulents, especially ones to be grown in pots outside or inside. Regular potting soil holds too much moisture so you will need to mix 1 part perlite or pumice to 2 parts coarse sand and 2 parts potting soil. This gives a nice, easily worked soil that drains well and yet has some nutrients. Over-fertilizing potted succulents can be problematic, so go lightly with well-diluted worm tea or fish emulsion or a balanced fertilizer (15-15-15). Hardy succulents that stay in the ground are generally okay with getting their nutrients from the soil.
Tender succulents are the Echiveria, jade, and aloe plants and, while they are fine outside in the summer, they do need to be brought inside before the first frost. Water them one last time outside about 3 days before bringing them inside. This way they will soak up what they need and the excess water will have drained through the pot's bottom holes. They can also start to dry out. Remove any debris or cobwebs before bringing them inside, too. Decaying materials can cause the succulents to rot or become infected. You can add a little top dressing – small decorative pebbles or even buttons – to make the pot look nicer while inside. Wipe any dirt off the sides of the pot and look closely at the plant to make sure you aren't bringing mealy bugs or spiders inside as hitchhikers in the pot.
Shedding of lower leaves is normal for most succulents, so no worries if you see this happening. Take a pair of tweezers or small pruning scissors and take off any dead or dying leaves. You may also be able to pinch off these leaves, too.
A lot of succulents – Echeveria, Sempervivium, and Aloe - go dormant in the winter and so need very little care or watering. Some, though, like the Peperomia, Sanseveira, Aeonium and Kalanchoe, are winter-growers and so will need more watering. This makes it important that you know what kind of succulents you have and what their specific needs are.
The main thing about succulents is not to water them too much. And if you pay attention, the plants will tell you what they need. If the leaves are limp and starting to wrinkle, time to water a little. If they are yellowing and look as if they are ready to burst, cut back on watering for a week or so to let them dry a bit. If the leaves are firm and a nice green color, they are happy and keep up the routine you were using.
A fun thing about hen-and-chick varieties of succulents is that they put out lots and lots of "chicks" that can be gently removed and easily propagated. No need to even root them, just spray them a little with water, then take a pencil and make a hole in some sandy potting soil and drop the chicks in, firming the soil around them. Soon you will have another Hen who will be putting out chicks of her own.
A word of warning, though. When you are ready to take your succulents back outside after wintering in the house or greenhouse, please do so gradually. Leave them in the shade for a few days before putting them in direct sun. Here again, while they like bright light, filtered sunlight is best. At least keep them out of the hot afternoon sun in the summer.