For my birthday this year, I received a very special gift from my family: two succulent plants each month for three months. These come right on time from a company called Succulent City and are varieties I probably wouldn't have chosen for myself but that have turned into some of my favorites. One that I received for July was a new type of succulent to me called Graptoveria 'Fred Ives.'
Not being familiar with Graptoveria succulents, I did some research to see what this particular type of succulent would need to keep "Fred" happy. Turns out they are a hybrid variety of Graptopelatum and Echeveria succulents. Stay with me here… it gets a little confusing now. Finding out about Graptoveria lead me to finding out more about Graptopelatum. These are plants from Mexico and Arizona that are very similar to Echeveria, although to me they more closely resemble sedum. So naturally someone came up with the idea of crossing the Graptopelatum and Echeveria to form the Graptoveria varieties.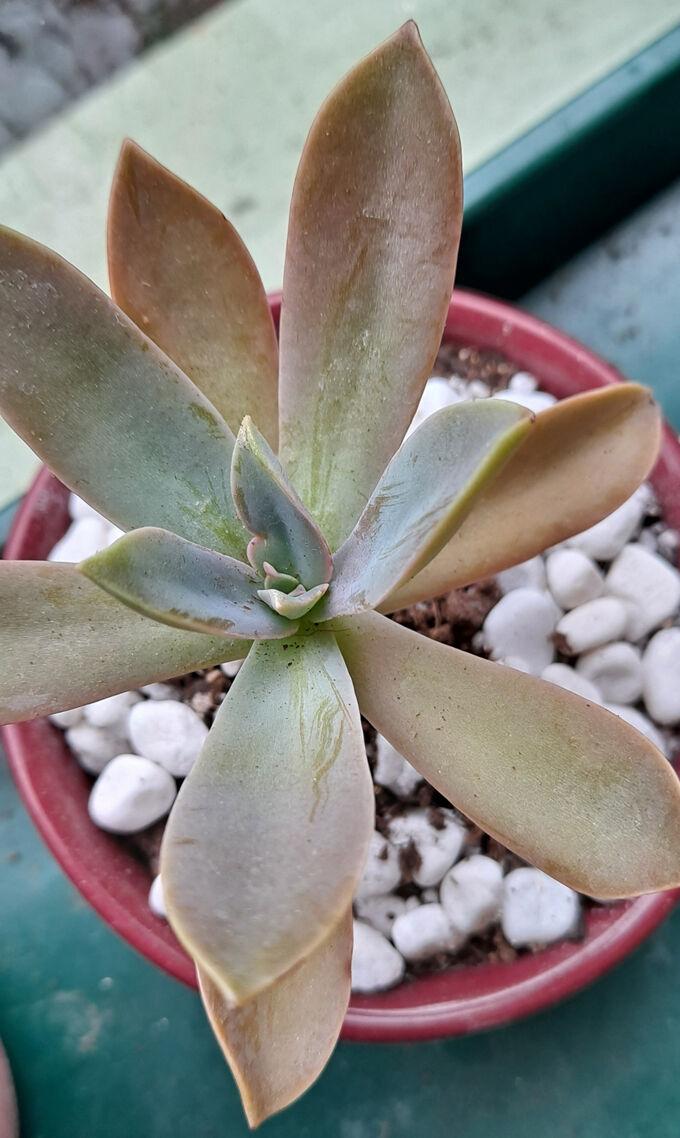 Okay, now back to growing needs of Graptoveria. Because they are half Echeveria, they have basically the same growing conditions: well-drained soil, lots of sun, and not much water. Most varieties form tight rosettes and some can get to be 8" across and high. They are quite the chameleons, too, and can change colors from blue to pink to purple and even red depending on the light and watering conditions. The leaves are waxy and are are coated in farina (or epicuticular wax) that resembles powder. It is that farina that protects the leaves from the full intensity of the sun.
The growing zone for Graptoveria 'Fred Ives' is USDA Zones 9 and 10. One of the websites I was visiting classified Tillamook County as a Zone 9, but to my knowledge we are still in Zone 8. So growing Graptoveria outside may be a little risky. Which is why I like growing in pots so they can be happy outside all summer and be brought inside for the winter. Not a bad idea anyway due to the winter rains. Other varieties of Graptoveria are listed as only Zone 10, so best to check on their zone classification before purchasing
The Graptoveria 'Fred Ives' is said to be hard to kill – unless it is overwatered – and easy to propagate. It is also listed as being a fast-growing plant. Sounds about perfect, right?
And this little beauty has a good chance of blooming in late spring or early summer if it is happy. The flowers are star-shaped and can be in any hues from orange to yellow to peachy-pink. Strong summer sunlight will make the blooms even more vivid.
I am learning so much about succulents as I share information with you. Farina and epicuticular wax were both new terms for me. But earlier this year I learned about monocarpic vs polycarpic succulents. Monocarpic plants are those that expend so much energy into blooming that they die after the blooms fade. Polycarpic plants can go on living and blooming – sometimes for years – before they die. But have no fear if you have a monocarpic plant like a sempervivium because they will take three to four years to bloom and, in the meantime, also form multiple rosettes around its base (the "chicks" of hen-and-chicks) that can be repotted and left to mature.
And yet another succulent term I have learned is etoliation. This is the elongation of stems in any plant when it is stressed due to lack of sunlight and temperatures that are too warm. Once a succulent starts etoliating, it won't go back to being bushy and full. If you notice the stems stretching soon enough, you can slow the etoliation by exposing the plant to gradually increasing sunlight. Doing it too quickly may cause sunburn, so just give them 30 more minutes each day over three days until the plant stops stretching. Cooler temps with less water will help this condition as well.
An etoliated plant that is past the point of repair can sometimes be helped by cutting off the top of the plant and repotting just the top rosette. The base of the plant left in the soil will often form tiny new rosettes along the stem, taking about 3 to 4 weeks to do so.
More to come next month as we learn how to propagate the more common succulents and talk about the Kalanchoe varieties of plants.