When most gardeners think of sedums they think of the late summer bloomers called Stonecrop 'Autumn Joy.' Even if you don't have this sedum in your garden, you will recognize it in other local gardens as it is a staple in the coastal garden.
The Stonecrop portion of the name denotes a type of sedum that does well in rocky soils you will find in a rock garden, thus the "stone." Sedums are a genus from the Crassulacea family, which also includes the ubiquitous Jade Plant. Many of the sedums are low-growing ground covers and have fleshy leaves of the typical succulent. While these are tough, easy-to-grow plants, they won't take foot traffic like some other groundcovers and are best used in borders or pots. They will fill in nicely in an area that has well-drained soil with full sun. But mine have partial sun at best and they do well, too.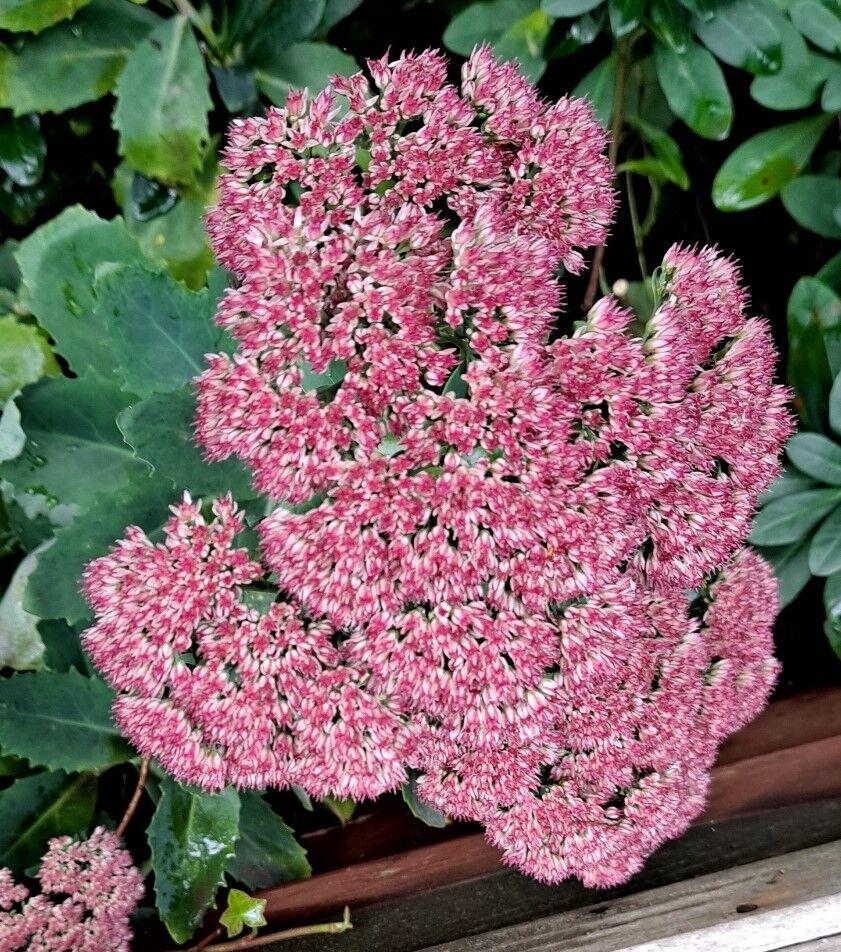 The 'Autumn Joy' Stonecrops (Sedum spectabile) are a little taller than other sedums, and can be very dramatic in the September and early October flower beds. They have a rounded, blue-green fleshy leaf that is about 3 inches wide. The 'Autumn Joy' flowers in shades of pink that turn to a coppery red and finally to a rust as the weather gets cooler. The dried flower heads will last through the winter giving some interest in a time when there is little else to enjoy.
In colder climates, these will die back to the ground. But with our mild climate on the Oregon Coast, the S. spectabile will stay all year, and can even get quite tall, stretching to 18 inches or more. This is especially true if they do not have full sun. Easy fix to this one: I pinch the tops of the plants off periodically from about May to mid-July. Then they can grow as tall as they like. This also delays the blooming period a few weeks. And as an added bonus, the tops you pinch off can be rooted in succulent soil for a couple of months and planted back out into the garden for a larger display.
Most other shorter, groundcover sedums will last the winter without further tending. They can also be kept in check by dividing them in the early spring and transplanting to other spots or sharing. There are a few that won't do well in our Zone 9, but these should be planted into pots rather than into flower beds so you can bring them inside or at least put them under shelter for the winter.
As with most succulents, the sedum genus will do best with limited water, making them great for our drier summers. But those being planted outside will need that well-drained soil like the rest of the succulents.
You won't be disappointed with a few Stonecrop sedum placed in strategic spots in the garden. Yet another succulent to add to your repertoire.
Before I close out this week - and this month - September is the prime time to order those spring bulbs for 2022. Tulips, daffodils and crocus all need a period of being refrigerated if they are to do well on our mild coast. Since most of them come from mountainous areas of the world, we need to trick them into thinking it is winter. So, order as soon as you find the ones you like and ask for prompt delivery so you can put them in the frig for at least six weeks. This means you will be planting them out in November. I know that is a horrid thought with the winter rains coming, but I am sure you can find a window of opportunity to get those bulbs in the ground. They will reward you with a showy spring display. Just make sure the soil they are planted in is (again) well-draining so the bulbs don't rot.