Were you lucky enough to receive an amaryllis for Christmas, 2020? If so, it might have been the best thing that happened to you last year. But now you need to figure out what to do with it to help it to bloom again for 2021.
I know a lot of people figure it isn't worth the trouble, but I can tell you from personal experience that the dark red amaryllis I received for Christmas in 2019 bloomed again in all its glory in 2020. And, in fact, it was even prettier the second time around.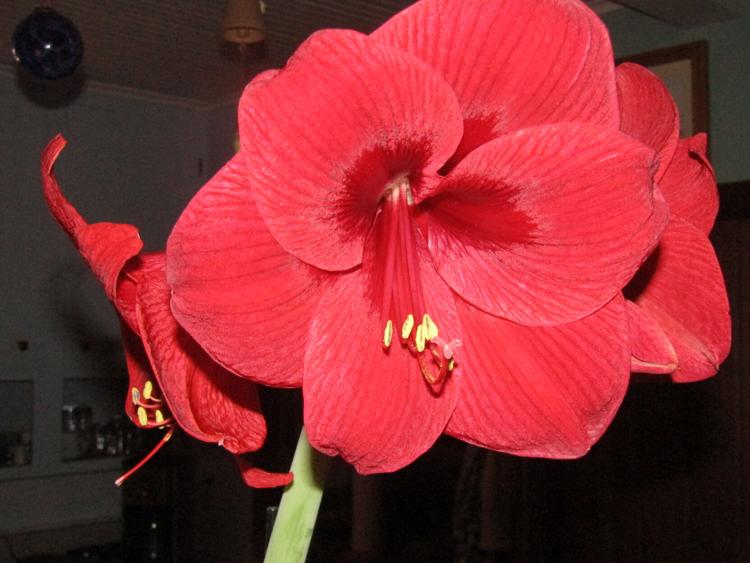 I looked online for some "official" instructions for caring for your amaryllis and found info from everyone from Wikipedia to Martha Stewart. Some of the easiest and yet best instructions, though, came from a site called www.gardeningknowhow.com.
The first year, all you really need to know is to keep the plant lightly watered (only about once or twice a week) and make sure it is not in harm's way. And by "harm's way" I mean out of direct sun, away from a heat source, but also not in extreme cold, either. Keep it in a spot that it won't be knocked over by cats, dogs, children, or anyone else.
The first season, the plant will produce a tall stalk with two to four blossoms on the top. My stalk got to be 30" this year! Once the flowers are spent, cut the stalk down to the top of the bulb, leaving any leaves that have formed. The bulb has used up all its energy to produce the flowers, but the leaves will continue to feed the bulb for next year. Kind of like what happens with tulips and daffodils.
During this time of reenergizing itself, all you need to do is keep the bulb watered (again, only about once or twice per week) and out of direct sunlight. The leaves will eventually begin to turn brown at which point they can be cut back to the bulb. This may not happen until June or July, so don't worry if your plant still has green leaves into summer. You will notice that the bulb has been planted so that the top portion stands out of the soil. You want to keep it at the same soil level and you can start to fertilize it about once a month.
Now, the online directions get pretty complicated: put the amaryllis outdoors in a shady, sheltered area. After a few days outside in the shade, move it gradually into sunlight, exposing it more and more each day. They even suggest setting a timer so you know when to bring it in from the direct sun. Water only about every other week, or even every three weeks. (I would need to set my computer calendar to remind me if I did that!) Www.gardeningknowhow.com also suggests leaving it outside for two to three months before bringing it back inside to start the reblooming phase again. Start watering again in November, once or twice a week. And with any luck, you will have a blooming amaryllis for Christmas again.
And now, if you think that's too much bother, here is what I did instead.
I let the flower do its thing until all the blossoms had dropped. At that point, I cut the flower stalk back to the bulb, as I mentioned before. I let the leaves brown, also as above, before I cut them back as well.
I did continue to water the bulb, but lightly and only when I remembered. The plant sat in its seasonal pot - inside - on my south windowsill for 11 months where it got light, but was out of direct sunlight. It was safe from the dog – and me – from knocking it over, but I had feared it would suffer from benign neglect. Turns out it was a tougher plant than I imagined.
About the second week in November, I noticed there was a hint of a green sprout in the center of the bulb, at which time I became more diligent about watering. I was careful not to overwater because more houseplants die from overwatering than underwatering. So, it got a drink when the soil seemed dry.
And by mid-December, I was graced with a lovely, dark red flower, that soon turned into two flowers and then to three and four. It is still in full bloom as I write this column in late December. So that "benign neglect" worked for me.
The best part about having that particular amaryllis rebloom is that it reminds me every day of the friend who gifted it to me long before the pandemic struck. A memory of a easier time.