Before I start into talking about gift suggestions for December shoppers, I found a pretty cool decorating idea from my friends at The Garden Corner nursery in Tualatin: make a holiday hanging basket! I tried one and it couldn't have been easier. All I did was find my hanging basket of annuals from last summer. I cut all the greenery back to soil level, leaving the soil in place. Then I roamed around my garden and cut branches of evergreen shrubs and trees and plunked them into the soil until I had a pleasing design. I went back to the design mantra of "Thriller, filler and spiller." Then, I added a few pine cones, some pyracantha red berries with an all-weather Christmas bow and… Voila! An instant hanging basket for the holidays. After New Years, all I have to do is take the bow off and I will still have some pretty greens for the rest of the winter.
Now to some local gift ideas for gardeners on your list.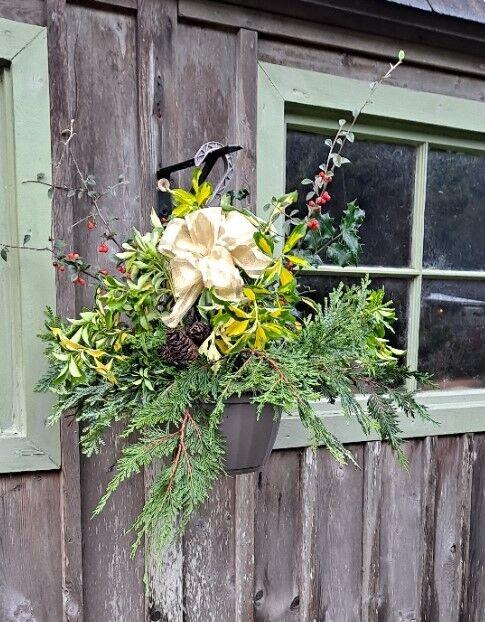 One of my favorite gifts to give - or receive - is a basket of gardening tools I put together from our local hardware or big box stores. Its pretty easy too. Take a large basket that can be used in the garden for harvesting or carrying tools. Fill it with an assortment of gardening gloves: a couple of pairs of nitrile or cotton gloves for every day, and perhaps long, leather gloves for your rose-loving gardener. Add a pronged weeder, a new pair of shears, a trowel or garden "claw," a package of fertilizing spikes, and maybe some garden stakes or labels. Perhaps add a nice bottle of hand lotion. Tie it up with an all-weather Christmas ribbon that can be reused (maybe on that hanging basket?), and you have a very personalized and special gift. You are only limited by your imagination and your wallet.
We are very lucky in Tillamook to have several nice florists – Sunflower Flats and Anderson Florist as well as our new one, Riverside Floral. Whether it be roses or other floral staples or the traditional poinsettia or amaryllis, flowers are a great gift for gardeners. You may think flowers or plants from a florist may be a little obvious, but I don't know of a single gardener who wouldn't love some bright color in their lives during the winter months. Something they can enjoy without too much work involved. All of these shops have an assortment of Christmas decorations as well, so that might be something fun and a little different to consider. I am sure you can find something to fit every budget here, too.
And, of course, there is always the option of a gift certificate. This can be to local shops like the above-mentioned florists, or to hardware stores for tools and seeds. But you are not limited to local shops if you have the ability to go online and order gift certificates from places like Gardeners' Supply (www.gardeners.com) or Kinsman Company (www.kinsmangarden.com), both of which carry tools and garden accoutrements like baskets, supports, cold frames and even some garden art. Gift certificates can also be found at specialty nurseries like Annie's Annuals and Mountain Crest Gardens, both carrying high-quality plants in Northern California.
Thinking outside the box a little, consider giving your gardener (or yourself) a gift of the Tillamook County Master Gardener Classes. This is the perfect gift for the new gardener, the new-to-Oregon-Coast gardener, or even the experienced gardener. And it is an opportunity for your gardener to give back to his/her community - once they are trained - by answering the public's gardening questions. The 2022 classes run from January to March and will feature a self-paced, hybrid, online format. Plans for the course include weekly Zoom hangouts, and live-streamed lectures from horticulture experts across the state. But it also will include in-person, hands-on learning opportunities, if conditions allow. At $100, this ten-week course is a bargain when you consider all the information you will learn. There are also scholarships available. If you have spotty or non-existent internet service, the Oregon State Extension Service will make accommodations to help you. For more information, please contact local Master Gardener Program Director Julia Wentzel at Julia.wentzel@oregonstate.edu. You can also find more info about the Master Gardeners and what they do for the community on the TCMGA website at www.tillamookmastergardeners.com.
I find the easiest way for me to come up with gift ideas is by thinking what I personally would appreciate. Chances are, your gardener will feel the same about the gifts you choose.