Roller Derby has made its way to Tillamook – spawned from a class at Tillamook Bay Community College and it has at least 20 local ladies circling the oval track every Tuesday and Thursday. And, these women mean business.
"It all started from a class here at the community college," Skid Vicious (derby name) Kery Scott said. "The class brought out a few like myself who had played before and many who hadn't."
Skid said there are currently 18 ladies on the local roster, who for the most part are learning better skating skills, the fundamentals of the sport and getting in bout-ready shape through two practices per week.
"This is a full contact sport so we have to be prepared," Skid added. "We're one-month into our 10-month plan to be able to compete."
The Dames are coached by Mike Sims (derby name: Rad Pit Stains) who is an officer with the Manzanita Police Department.
Both Sims and his wife Skid have competed in Roller Derby in the past while living in Astoria.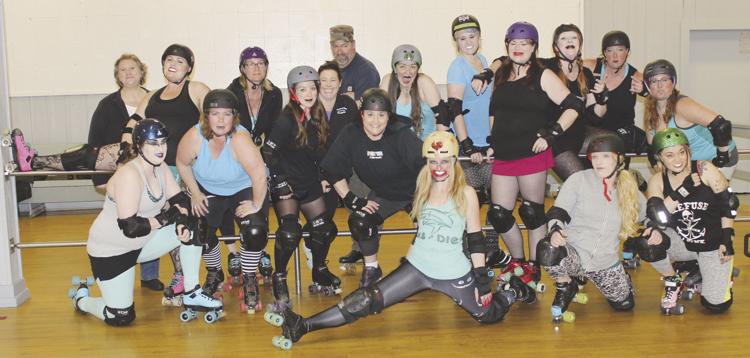 Others with experience have also joined the group. Margo McClellan aka, Pippi Wrongstockings (derby name), a tall red-head who wears long braids under her helmet is vying to be a jammer or blocker, whichever, she has played both positions while living in Flagstaff. She had to quit the sport to finish grad school prior to moving to Oceanside.
Dawn Ahlers (derby name: MZ. D. Meen Her) got with Sadie Moser-Walker (derby name: Sladie Four) who worked at TBCC at the time and the two approached the administration at the college to offer a class in Roller Derby.
The class ended in March, but the excitement remained and after reserving Tilla-Skate every Tuesday and Thursday, picking a name, joining the WFTDA (Women's Flat Track Derby Assoc.) the Tillamook Coast Derby Dames were born.
"We're not ready to compete, but we are progressing nicely, and have even had a Rose City Roller from Portland's World Championship Team come help us," Skid said. "When we're ready we could get a bout with the Vancouver B side and other teams around the state."
Dwaine McClintock and his wife are also helping the ladies with some skate coaching. In a former life, the McClintocks were competitive artistic skaters and even competed in Nationals. McClintock had not been on skates for a while, but watching him warm up in the fairgrounds skating rink, you would think he was getting ready to carve out some figure 8s in a series of precise moves as he glided across the floor.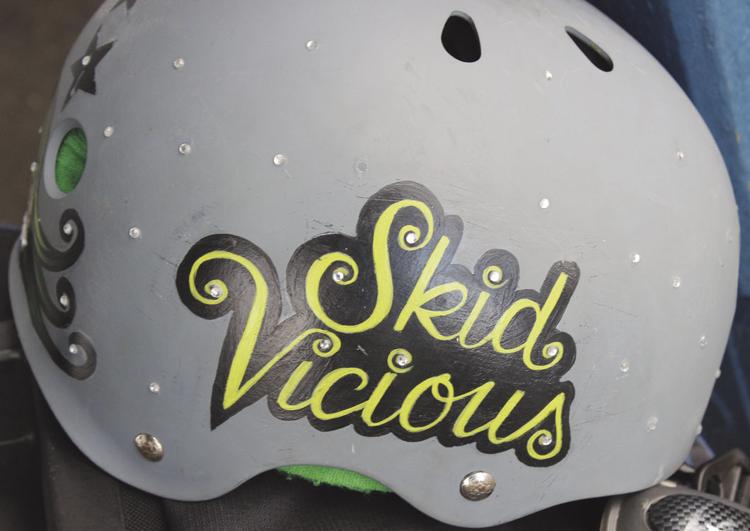 "I've probably skated seven times in the past 35 years," McClintock said. "I'm happy to help the ladies, I know the fundamentals and I like to go fast."
So with coaches helping the ladies with the fundamentals, coaches helping the Dames become better skaters and plenty of veteran talent, the next 10 months to a year are key to this team's progression. The ladies are becoming a very close group as they hone their skills and learn together.
But for Sunshine Swetland (derby name: Sweet Feet) the timing of all of this could not have come at a better time in her life. She has embraced her new sport and looks at her relationship with her new team as more of a sisterhood or a second family than a team.
"I found out about it and it was on my bucket-list," Sweet Feet said. "I was going through a hard time so I showed up at the first practice and I got a lot of negative energy out that was inside me — I realized this is a good outlet for me."
Swetland said the workout is a good adrenaline release, when she is finished she feels great and is getting in better shape with every practice.
"I've quit smoking, I'm clean and sober since I started," she said. "I've been able to personally channel my energy into something positive instead of something not good." Sweet Feet said she even signed a waiver with the team to stay clean. "You can't do this if your are not in shape and focused, you have to have your head in the game."
Swetland said she is also excited by the ladies she is learning with.
"These are some very encouraging women doing something with their lives," she added. "I've met a lot of women who I want to be associated with and who encourage me to be a better person, this is a fresh start for me."
Anyone interested in joining the fun can check out the Oregon Coast Derby Dames on Facebook or show up every Tuesday or Thursday from 6 to 8 p.m. and learn about Tillamook's newest sport.