When it comes to tide pooling, everyone knows the lower the tide, the better the tide pooling. This year, the lowest tides are slated for the beginning of June, July and August and are sure to bring crowds of people to the Oregon Coast to see the colorful creature that lurk just below the surface - yet are often safely hidden away from human observers.
While low tides are exciting, the Friends of Netarts Bay WEBS would like to remind folks that enjoying tide pools is a privilege and requires responsibility on the part of the viewer. Which is why they are hosting several more 'Oceanside Tide Pool Discovery Days' this summer at Oceanside Beach Recreation Site.
"We like to tell people that the sea creatures are the ones who live here, and we are just guests in their home," said Chrissy Smith with the Friends of Netarts Bay WEBS.
During Tide Pool Discovery Days, staff and volunteers with WEBS, Oregon State Parks, and a number of other Explore Nature Series partners can be found on the beach teaching folks about the creatures that live in the rocky tide pool areas, how they survive, and of course how to enjoy them without disturbing them. Learn about anemone clone wars, how a sea star eats, or how hermit crabs steal shell homes from other crabs
"When we stop to take a closer look, it is amazing the diversity and vast amount of life that is living on what seems to be a boring rock, or even on one ancient mussel shell," Smith said.
The next upcoming Tide Pool Discovery Days starts at 10 a.m. on June 8th, which also happens to be World's Ocean Day. To celebrate, WEBS has invited Tillamook County Solid Waste to assist in a microplastic clean-up event at Oceanside Beach the same time as the tide pooling. Folks are encouraged to bring their families and help clean up the beach and explore the intertidal from 10 a.m. to 1 p.m. Registration is recommended and will provide more detailed information, however is not required.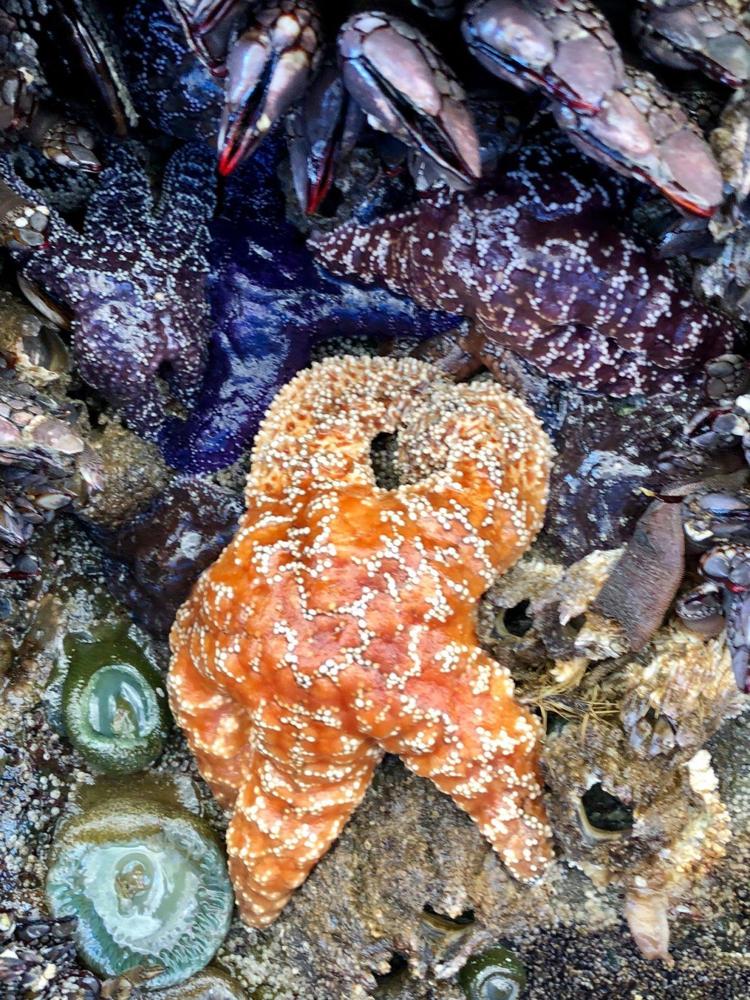 In addition, Friends of Netarts Bay WEBS is partnering with Shuck Portland, a group of business owners and ocean ambassadors with the goal of building grassroots efforts to help restore natural habitats for wild oyster, to host an all-day adventure and coastal beach trip. This event, which offers shuttle services from Portland, is open to coastal locals and visitors.
The Oceanside Tidepool Discovery Day and microplastic clean-up will be the first stop on the trip before embarking on several other coastal adventures including options to tour Whiskey Creek Shellfish Hatchery, Netarts Bay Research Reserve, Jacobsen Salt Co., and more. Learn the particulars at www.shuckportland.org/beachtrip.
Three more Oceanside Tidepool Discovery Days are planned for July 5th, and Aug. 2nd and 3rd to coincide with the extreme low tides happening those months. The July 5th event will happen in partnership with FACT Oregon and will include a post-4th of July cleanup.
Many of the tidepool dates will also have Spanish speaking interpreters. As always, these are free to attend however registration is helpful. Folks can come and go as they like, just look for the volunteers in WEBS t-shirts for help and resources to make the most out of your tide pooling adventure.
Oceanside Tidepool Discovery Days are part of the Explore Nature Tillamook Coast series of hikes, walks, paddles and outdoor adventures. Hosted by a consortium of volunteer community and nonprofit organizations, these meaningful, nature-based experiences highlight the unique beauty of Tillamook County and the work being done to preserve and conserve the area's natural resources and natural resource-based economy.
You can register for one, or all, at explorenaturetillamookcoast.com.