The year was 1967 and America was in the midst of turmoil and an identity crisis of sorts. The Vietnam War was ramping up just as the summer of love and Monterey Pop Festival began to sizzle. Race riots filled the streets of major metropolitan areas as Thurgood Marshall was sworn in as the first African American Justice of the Supreme Court.
It was the first year of the Super Bowl and when Elvis and Priscilla tied the knot. AM radio blared the Door's Light my Fire and Happy Together by the Turtles. The hip movies in the theaters included The Graduate and Cool Hand Luke. However, in the tiny village of Netarts on the north Oregon coast, anticipation was growing for a different reason.
Inside an old, surprisingly turquoise colored, building on Main Street in Cornelius, Oregon, technicians of the Western States Fire Apparatus Company were busy assembling a brand-new class A fire truck for the then Netarts Rural Fire District (NRFD). Up to that point, Chief Clare Edner, and his volunteer firefighters of the NRFD had been mostly responding to fire calls with surplus WWII-era army "deuce and a half" fire trucks.
This new, professionally built, fire apparatus was going to be the first ever brand-new fire truck, and a game changer for sure. The new apparatus was being built on a 1967 Ford F800 cab and chassis, purchased for $5,110.09 from Tillamook Motor Company on April 21, 1967. The truck boasted a 235 horsepower, 391 cubic inch V8, "Deluxe Fresh Air" heater, 10-ply nylon tires, a 65-amp alternator and of course, a cigar lighter.
It would also be equipped with a front bumper-mounted, 750 gallon per minute (GPM) water pump and a 750-gallon onboard water tank, and would carry over 1,400 feet of hose, two ladders, two axes, hydrant wrenches, a portable 200 GPM water pump, and other firefighting gear including one self-contained breathing apparatus (SCBA) air mask and two air bottles.
Only two firefighters would fit in the cab, while the rest of the responding personnel would stand on the enlarged tailboard holding onto a handrail, which was the norm in those days. For a small fire district such as Netarts, this truck was the pinnacle of modern firefighting technology.
Netarts-Oceanside Fire Chief Tim Carpenter has a long history with the truck that has been referred by some over the years as Old Red. "It was still one our primary pumpers when I joined Netarts Fire as a volunteer in 1988. That truck has been in continuous service for more than five decades. It's a great example of a typical rural 'Class A' fire pumper that was used throughout the Pacific Northwest at the time."
Every year, publicly owned fire trucks must undergo pump testing and be certified to satisfy strict National Fire Protection Association standards. Like a proud parent, Chief Carpenter explained that Old Red passed every annual pump certification test since going into service – an uncommon feat even for pumpers that are decades younger.
"She actually still passed with flying colors this year."
Retired Oceanside Rural Fire Protection District Chief Paul Peterson also has fond memories of Old Red and a familial connection to it as well. Peterson started volunteering with NRFD as a cadet when he was 14 years old, and was 20 years old when the truck arrived in Netarts. "My dad was on the fire board at the time, and his signature is on the paperwork that approved the purchase of that truck."
In 1994, Oceanside Rural Fire Protection District (ORFPD) took possession of Old Red from Netarts while Peterson was on the Oceanside Fire Board. "My name is somewhere on the paperwork when that truck moved to Oceanside." Soon after, Peterson took over as Fire Chief of Oceanside when Chief Scott Campbell retired. "That truck was the only Class A pumper in Oceanside, and it never failed us," said Peterson.
In 1998, Carpenter became the Chief of Netarts. The following year, the fire districts of Netarts and Oceanside merged to form Netarts-Oceanside Fire Rescue. And perhaps as a premonition, the original gold paint door graphics "Netarts Engine No. 1" had never been changed to "Oceanside," despite her years of service there. Old Red was back home again, serving her community of Netarts for what would prove to be another twenty years.
Throughout her tour of duty stationed in Oceanside, Old Red carried local kids in the small, but lively, Fourth of July parade in Oceanside. In July of 2019, Old Red cruised down Pacific Avenue with her payload of laughing, excited children for the last time.
Because just the like the firefighters that she safely carried for all of those years, old fire trucks must also eventually retire someday – and Old Red's day has come. However, Chief Carpenter could not let Old Red face the same fate that has befallen many retired rural fire trucks throughout the Pacific Northwest – sold cheaply to logging companies to only be used as mere compliance to regulations requiring that firefighting equipment be positioned at logging sites.
There, these once garaged, dependable and revered community servants sit idle and rust away alone on a hilltop in the forest, until they are simply sold for scrap. "I didn't want that to happen to that truck, I mean, she only has 7500 miles on her."
Luckily, Old Red was still a head-turner at 51, and falling into decay was not to be her fate. She caught the eye of Greg Musil while he was visiting Oceanside. Musil also happened to be the Vice President of the Oregon State Fire Museum in Salem at that time.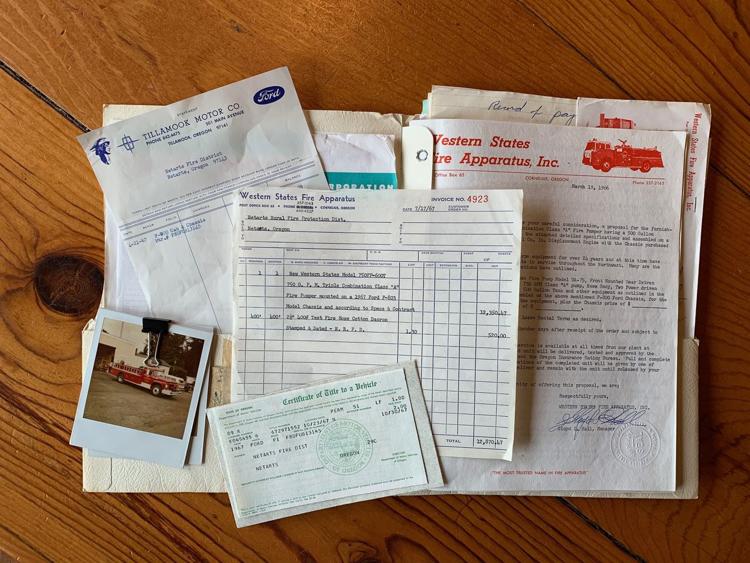 Needless to say, Musil took a liking to Old Red right from the get-go. Arrangements were soon made for Old Red to live out her days, safe from the elements, to serve as a reminder of firefighting history in rural Oregon for young, and older generations of Oregonians alike.
In June of 2019, two months and 51 years shy of her delivery date, Old Red was officially retired from the fire service.
Taking the reigns from Old Red at Netarts Oceanside Fire Rescue is a 2019 International 4x4 Fire Apparatus built by KME in Pennsylvania. The truck is rated for structural firefighting and will also provide wildlife interface firefighting capability for the district.
Perhaps fatefully, and not merely coincidently, Old Red's replacement was arranged for purchased through sales representative Eric Hall, of the Cascade Fire & Safety in Yakima, Washington.
Hall's grandfather and father had started Western States Fire Apparatus, Inc., and had worked on Old Red as she was being built. Arguably a more superior apparatus by every technological measure, it remains to be seen if the new KME fire truck's career will be as long or steadfast, or if it will evoke the same kind of emotion that a vintage fire engine like Old Red has.
Old Red is now temporarily on display at the Tillamook Air Museum as she awaits the completion of a new building at the Oregon State Fire Museum. Perhaps, finding a suitable retirement home for Old Red serves as the community's fulfillment to an obligation made back when that final $1620.64 installment payment was sent to Western States Fire Apparatus on July 8, 1970.
Therefore, on behalf of the current and former firefighters, residents and visitors of Netarts and Oceanside, "Happy Retirement" Old Red, thank you for your service.
Author Paul Fournier was a volunteer firefighter for Netarts-Oceanside Fire Rescue from 1995-2002, served as a Captain for the Water Rescue Team, and actually loved driving Old Red despite her lack of power steering or power brakes.