Tillamook teacher and his class of sixth grade students make history by lobbying for milk as official state beverage in 1997
Twenty years ago, a group of students from East Elementary School testified at the state capitol – all in the name of milk.
Two decades later, Oregon Dairy Day at the Capitol hosted a "Toast to Milk" on March 28 in Salem, celebrating the 20th anniversary of milk becoming the official state beverage.
"When you look at all the different symbols for the state of Oregon, this is pretty cool," Bruce Cardin, the local teacher whose class of sixth grade students was responsible for Oregon adopting milk as the state beverage, said. "It gave them an opportunity to not just do 'schoolwork' but do something important."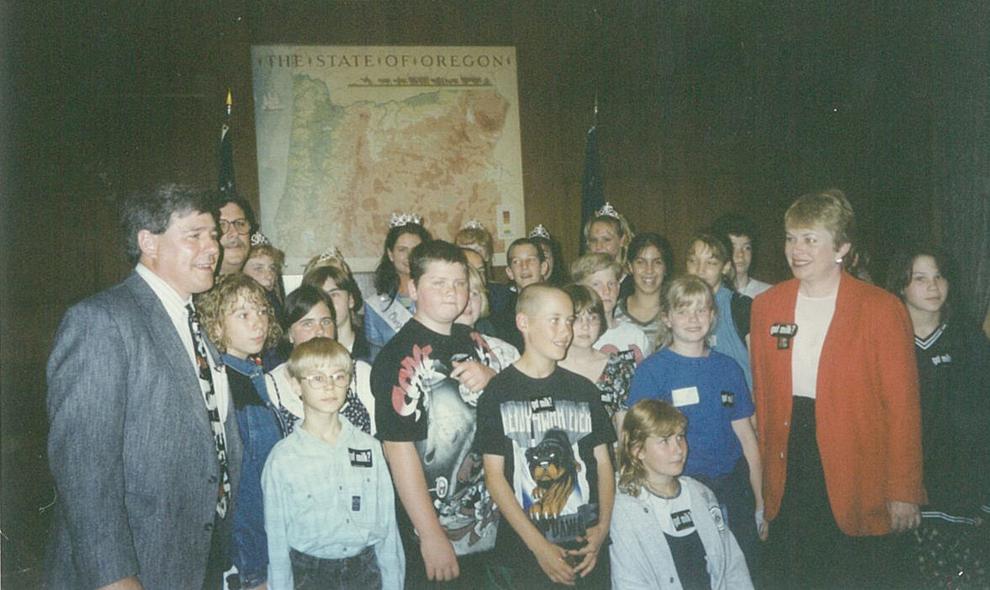 Chad Allen, local dairyman and Oregon Farm Bureau president, honored Cardin, who was in attendance along with three of his previous students, during the Toast to Milk at the state capitol.
Cardin reiterated it was the kids' project through and through.
"They pursued this – they wanted it and they were ready."
Cardin's fourth grade class was learning about different states in the U.S. and noticed a glaring omission with Oregon's state beverage.
"Florida had orange juice, Massachusetts had cranberry juice but they noticed Oregon didn't have anything," Cardin said.
A thought struck the teacher to take a beverage important to the state of Oregon – and especially Tillamook – and work with his students to create an official state beverage: milk.
"You think Tillamook, you think dairy," Cardin said.
Mid-spring of the 1994-95 school year, Cardin's fourth grade class wrote then Rep. Tim Josi and Sen. Joan Dukes asking them to sponsor a bill making milk the official state beverage.
"But Tim said it was too late in the session," Cardin said.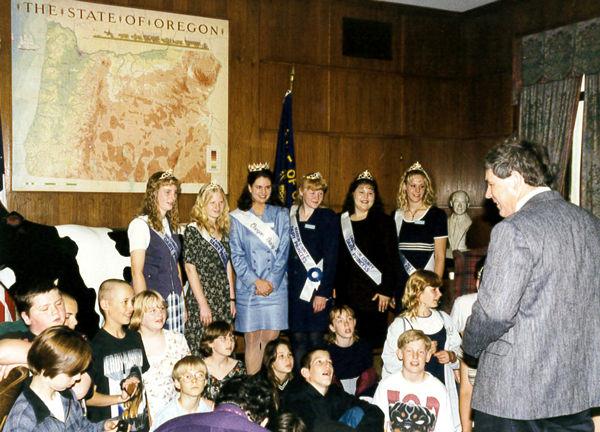 Two years later, Cardin found himself teaching sixth grade – with some of the same students from his fourth grade class – and received a call in November.
"Sen. Dukes asked if we still wanted to do this," he said.
Cardin asked his sixth grade students, who responded with an enthusiastic:
"Yeah!" Cardin said, with lots and lots of gusto.
The class wrote both Sen. Dukes and Rep. Josi requesting their assistance in sponsoring the bill and the pair decided to sponsor it as a joint resolution.
Cardin took on the task as an integrated project in the classroom – combining civics, economics, persuasive writing, art and technology to get the passage of the joint resolution in Oregon's House of Representatives and the Senate.
"We also practiced public speaking and researched the process of how a bill becomes a law," Cardin added.
He said the students bought into the entire process and reminded them, if they were to be taken seriously, they would need to polished and knowledgeable enough to testify their case in front of legislators.
The lactose lobbyists ultimately took three field trips to Salem: Once to speak in front of the House Agriculture and Natural Resources Committee, another to testify in front of the Senate Agricultural Committee and finally – to celebrate the passing of Joint Resolution 8, officially naming milk as the state beverage.
"Each time the bill – well, Senate joint resolution – would go before a committee or legislature we would be right there answering committee questions or cheering our beloved bill along," Jeremy Cham, one of Cardin's students who testified, wrote the Headlight-Herald.
Cardin said the students testifying were among his favorite memories.
Four East Elementary School pre-teens pleaded the case for milk – Cham, Jessica Gorham, Carrie Lamkin and Gary Blaser all plead their case before the senate committee.
However, other beverage possibilities nearly threatened to derail the project.
The wine industry – and the state's famous pinot noir – was just taking off when the students were lobbying for milk.
"A lot of people thought wine should be the state beverage," Cardin said.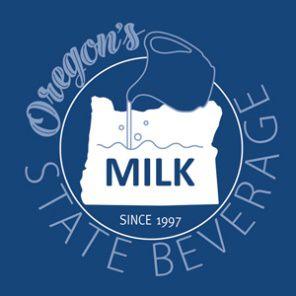 But one state representative from Newport planned to vote against milk – instead opting for water as the state beverage due to his background as a fisherman and his lactose intolerance.
"Jeremy Cham was testifying," Cardin laughed, "He goes, 'Don't you fish for a living? Well, I don't eat fish, but I will if you'll drink milk.'
"He didn't skip a beat. I thought, 'Wow! Where did that come from?'"
Another special moment happened when his sixth grade class was allowed to sit amongst the legislators while they were in session – a very rare treat, Cardin said.
"[The class] lobbied several legislators," Tim Josi wrote in a 1997 Headlight-Herald column, "And even brought milk and cookies to the committee hearings to demonstrate their product."
Reflecting on his time with the process, Josi had various pictures from that time –him talking with Cardin's class, posing with a Plexiglas cow (and matching cow tie) during the signing ceremony and group photos of the class with various legislators.
"This was a lot of fun," Josi said, "The kids enjoyed it. They saw the legislative process from a positive side.
"I felt good about putting the dairy industry on the map."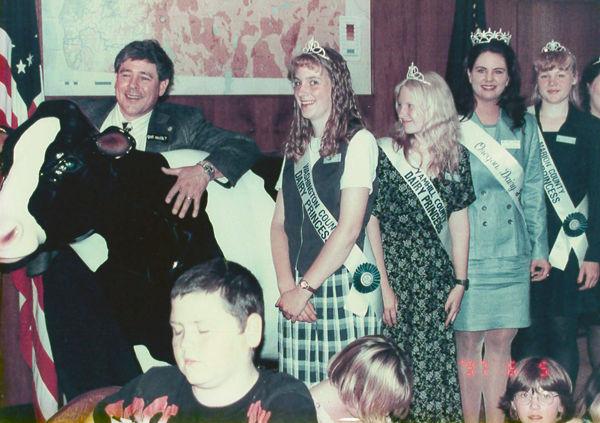 The question remained, however, how Josi's relationship with milk has evolved.
"I still drink milk every day," Josi laughed. "2 percent – I drink about a gallon a week."
Complete with scrapbooks and memories for a lifetime, less than two dozen students from East Elementary made an impact in Oregon that is still being felt today – with a year's worth of events to celebrate their victory two decades ago.
"I actually had Mr. Cardin three years in elementary school – third, fourth and sixth grade! I just couldn't escape the guy," Cham wrote. "He was one of the best educators in school district 9 and we were lucky to have him as our teacher and mentor."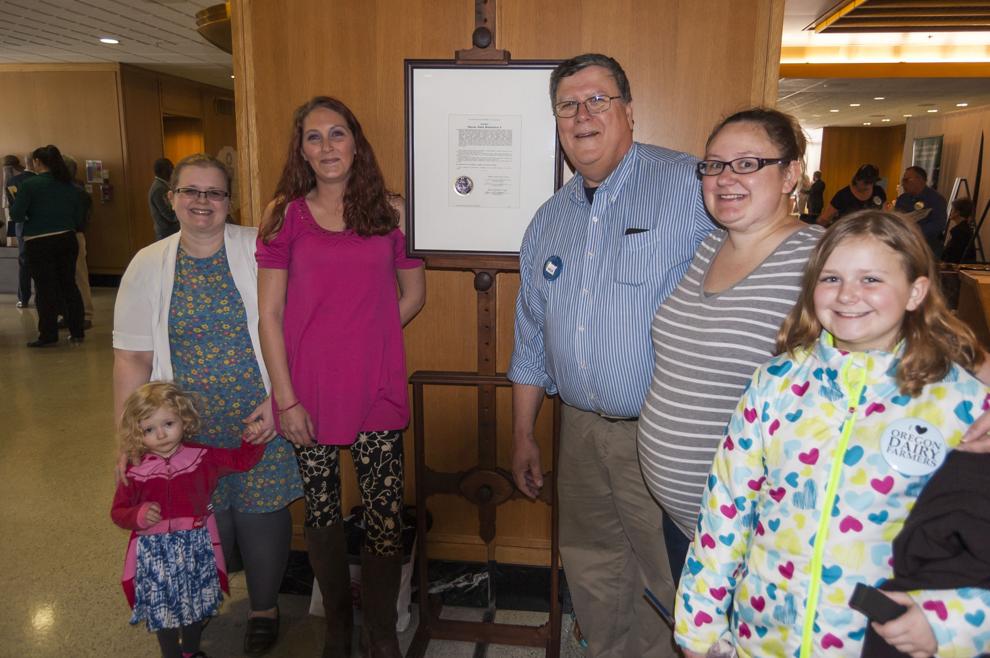 However, even with his class making a lasting impact statewide, Cardin said one of his colleagues joked Cardin missed an opportunity.
"[First grade teacher] Sharon Lighthill said, 'You really should have gotten rid of Daylight Savings Time.'"